St. George, Utah, located on the Arizona border in the southwestern part of the state, embraces the holiday season enthusiastically each year. If you live near the city or are planning a trip to that part of the United States this year, be sure to include one or more of these festive activities in your Christmas season plans.
🎄

Christmas Activities in St. George
⛪

View the Temple Lights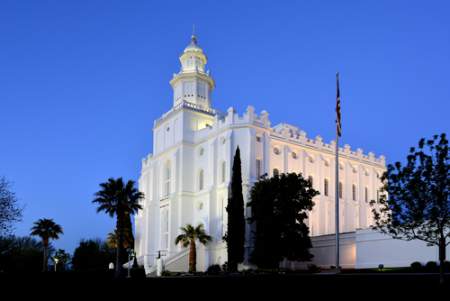 The St. George Temple, a part of the Later Day Saints Church, is a symbol of the city. No time is it more beautiful than during the Christmas season when it is adorned by thousands of colorful lights. The display, which also includes a nativity scene, is open from the day after Thanksgiving through New Year's Eve. Various area school choirs and other vocal groups perform at the site during the season.
St. George Temple is located at 490 S. 300 St. E in St. George. Admission is free.
☕

Sip hot chocolate and enjoy the lights in the City Center.
Warm up after a morning or afternoon of holiday shopping with a cup of hot cocoa at Town Square in the City Center of St. George. The square is also adorned with thousands of holiday lights. The park is open from 8:00 a.m. to 8:00 p.m.
🏬

 Attend the Dickens Festival.
This annual event is held at the Dixie Convention Center, in the heart of downtown St. George, the weekend after Thanksgiving. More than just a shopping event, the festival features an authentic old world Santa, fortune tellers, hundreds of docents in period costumes and lots of dancing and caroling. Of course, there are also more than 100 crafters and vendors with unique gifts to make your holiday shopping easy.
Admission is $7 for adults, $6 for those age 65 and older, and $5 for those ages 4-12. Children age 3 and younger are admitted free of charge.
🎼 Be a part of the George Streetfest on Main.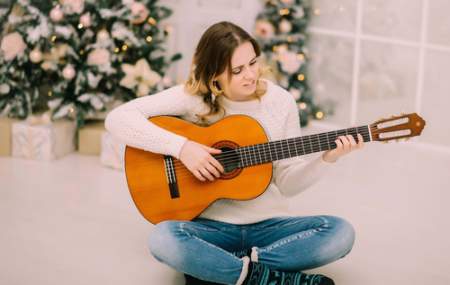 For something a little less traditional, spend an afternoon or evening at the George Streetfest on Main. This innovative event features live music in a variety of genres, crafts to buy from local artisans, wine and beer samplings and some of the region's favorite food trucks. There's even a kid's dance party in the early evening for the little ones.
The event takes place the first Friday of December from 6:00 p.m. to 10:00 p.m. Admission is free.
🎅 Go swimming with Santa.
Sand Hollow Aquatic Center at 1144 North Lava Flow Drive St. George is hosting a quirky, fun holiday swim with no other than Santa himself. Bring your own inner tubes and enjoy Christmas cookies, hot chocolate, special water games and more. Admission is $1.
🌰

Attend the Nutcracker.
The classic holiday ballet about Clara and her magical gift that comes to life is performed every year in St. George at the Desert Hills Theater at 828 East Desert Hills Dr. Performance dates for 2017 at December 12-14. Admission is $20.
❇️

Drive around and take in the neighborhood lights.
The people of St. George outdo themselves each year with their spectacular residential light displays. It's a rare street that doesn't have at least a few such displays. However, for the best light viewing, venture over to Jacob Drive, Arrowhead Trail and/or Scenic Drive. Most displays go up shortly after Thanksgiving and stay in place through Christmas.
🎄

Christmas attractions near St. George
💥

Experience the live nativity scene at Tuacahn Amphitheater.
Tuacahn's Christmas in the Canyon celebration in nearby Ivins takes place Monday, Thursday, Friday and Saturday evenings from now through December 23. The celebration features a holiday marketplace, festive lights, holiday treats for sale and live music. You can also ride a miniature holiday train for $2 and attend the live nativity presentation for $2. Performances are at 7:00 p.m. and 8:00 p.m. nightly. Santa will be on hand between 6:30 p.m. and 9:00 p.m. to visit and take pictures with children.
🎺

Listen to Handel's Messiah in Cedar City.
As it has every year since 1944, the Heritage City Theater in Cedar City is hosting a holiday singalong to Handel's "Messiah." The 2017 dates are December 8-9 and admission is free. Singers will be accompanied by the University of Southern Utah Orchestra and Chorale. The theater is located at 105 N. 100 St.
St. George is beautiful during the holiday season. Don't let this Christmas season pass without taking your family to enjoy one or more of the city's festive events and activities.
Your real estate agent is the best source of information about the local community and real estate topics. Give the Jackie Ruden Realty Team a call today at 435-272-7710 to learn more about local areas, discuss selling a house, or tour available homes for sale.