St. George is nestled in the southwest corner of Utah with the I-15 highway running right through the city. As the county seat, it's also Washington County's largest city with over 80,000 residents. Nearby Entrada is a luxury planned community about 15 minutes north of St. George. It consists of single family dwellings, town homes, and condominiums clustered near the spectacular scenery of Snow Canyon State Park.
This entire area of Washington County is booming. No surprise given its picturesque landscapes, mild climate (though summers can get very hot) and plentiful amenities, the St. George/Entrada region is a desirable location for living. Keeping kids occupied during the summer school vacation should be a breeze with many options for camps and day programs available with a range of activities and price points. We've rounded up a few of the most enticing for this guide to summer fun.
Summer Camps for Kids
The City of St. George offers a wide range of summer day camps for kids, from preschoolers aged 3 to 5 to older kids and teens. Check the arts and recreation website for an overview. Municipal programs are aimed at providing a combination of fun, educational activity and child care for working parents. Some camps are half day, others are full day – as each child is different and requires their own combination of activity and down time. That's why these city summer programs are so flexible. If cost is a consideration, parents should note that prices are generally lower for public programs than private, and that financial aid is also available for those in need.
For older kids who are ready for overnight programs, there are several classic summer camp experiences available in some of the most gorgeous natural landscapes Utah has to offer.
Specialty Camps & Programs
Summer is a great time for kids to pick up new skills in a child centered, lower pressure and fun environment. For children entering grades Kindergarten through 6, Camp Invention – Fast Forward at Crimson View Elementary School turns this St. George school into a summer camp campus for junior inventors. Here, children are challenged to think about creative problem solving, teamwork, entrepreneurship, and innovation. New curriculum is introduced each year, inspired by the Inductees of the National Inventors Hall of Fame! Full day for 5 days in June.
As the region is so stunningly beautiful, it is not surprising that Utah National Parks Council offers a wide variety of specialty camping experiences for kids during the summer break. Case in point? Entrada High Adventure Base, a Boy Scouts and Venturing camp which takes place near Moab and the massive red rock formations of Arches National Park. This camp offers outdoor activities like canyoneering (exploring the back country near Bull Canyon), river rafting, mountain climbing and biking to youth over the age of 13. Groups come with their own leaders and can choose day activities or stay overnight camping.
Therapy Associates of St. George runs Ignite Girls Leadership camps each summer, teaching young women to be independent and resourceful. Although originally designed for troubled youth, this survival skills camps is aimed at all girls aged 10 to 20 and takes place in the Bureau of Land Management wilderness area west of Gunlock.
Another program especially for girls is the eSMART (exploring Science, Math and Related Technologies) summer camp for girls entering the 8th grade sponsored by the St. George chapter of the American Association of University Women. Dixie State University hosts the camp from June 12 – 15. The program includes a variety of workshops taught by successful women in STEM careers in topics including planetary science, local archaeology, genetics, food science, computer programming, electronics, and geology. The best part? Girls get to experience dorm life while at the camp.
One of Washington County's most popular attractions – the Dinosaur Discovery Site at Johnson Farm – runs a full summer slate of programming for kids visiting with their families. Dino Tuesday activities are included in regular admission fees and are meant to enhance the museum experience for children of all ages. Activities include uncovering bones in a mock dig site, arts and crafts and playing Dino Bingo for prizes.
Crafts & Arts Programs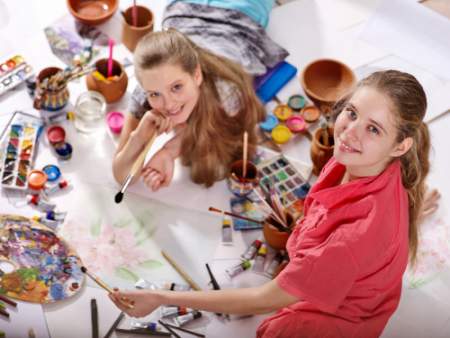 St. George Art Museum runs themed cultural programs for kids each summer. In 2018, Ancient Rome is the subject of six half-day sessions exploring the culture of Pompeii and the Roman empire. Taught by artists and art historians, sessions are packed with hands on learning and creativity.
St. George Children's Museum continues a few of its popular free-with-admission programs right through the summer: Arts and Crafts with Mary takes place every Thursday from 11 am to noon. Storytime takes place in the Library at 11:30 am on Wednesdays. The Museum is an awesome place for imaginative play with exhibits and environments that encourage children to just be kids. Check their website for more summer camp program announcements.
Older kids who may already have a packed schedule with friends but still want to pick up a new skill, should check out the city of St. George run 2-day Learn to Cartoon Workshop. Offered in June, this workshop is designed for budding cartoonists age 10 or older.
Nature Camps & Activities
Busy Bee Nature Camp is a St. George city-run program designed for 4-5-year-olds – it costs a reasonable $38. Sessions are half day for young explorers and are held at the Tonaquint Nature Center.
Adventure Camp for Teens is a city program for older kids that runs 5 one-week half day sessions between June 11 and August 2. Youth can learn leadership skills and team building exercises alongside participating in lots of outdoor fun (90% of the program is held outside). Campers meet at the St. George Recreation Center with multiple off-site excursions.
Staheli Family Farm is a popular rural activity center and working farm on the outskirts of St. George near Washington. Each June they run Farm Camp, a day program for kids aged 3 and up. Children get a chance to interact with farm animals, learn about planting and crops, farm safety and much more. It's not all play, kids are required to work first, learning how to do basic farm chores and why they are important.
Sports Programs & Camps
Camp Neptune for 5-7-year-olds and Camp Atlantis for 8-10-year-olds take place each summer at the Sand Hollow Aquatic Center (SHAC) in St. George. These popular swim camps combine in-the-water games with technique lessons for a wet and wild camp experience in the city. Summers are hot in Southern Utah, so swim camps are especially fun for the kids.
The six-week Kickin' Summer Program teaches karate skills at Bobby Lawrence Karate in St. George. Aimed at children ages 4 and up, the camp combines karate lessons with basic self-defense skills such as punching and blocking. Advanced students will have the opportunity to earn a white belt before the session ends.
The Junior Association of Golf in St. George offers summer programs for junior golfers that include fun extras like pool parties and tournaments as well as free instructional clinics. Open to children ages 7-17, JAG programs run throughout the summer. Lessons are directed by a PGA professional and kids learn respect and love for the game of golf and its etiquette in a low pressure and fun atmosphere.
Summer in Washington County is a special time for kids and their families. There's no reason for kids to hang around the house bored, waiting for the school year to start back up – when all the fun and beauty of Utah is so readily accessible at summer camps and programs throughout the region. The St George and the Entrada area have a wealth of options – choosing which activities to sign up for will be half the fun.
Your real estate agent is the best source of information about the local community and real estate topics. Give Jackie Ruden Realty Team a call today at 435-272-7710 to learn more about local areas, discuss selling a house, or tour available homes for sale.
Summary
Article Name
St. George and Entrada Summer Camps & Programs
Description
Keeping kids occupied during the summer school vacation should be a breeze with many options for camps and day programs available with a range of activities and price points.
Author
Publisher Name
Publisher Logo