St. George, Utah packs a powerful draw when it comes to real estate because it's one of the most beautiful places to live in the country. Luxury homes are crafted to cater to comfort, situated in master-planned communities that were cleverly designed to work with nature's majestic displays. In addition to the affluent private communities, there are beautiful neighborhoods throughout St. George that make it a great place to call home. Although St. George is a highly sought-after vacation and active retirement destination, it's still subject to the irregularity, the shifts and sways of the real estate industry. Here's how the August real estate market shaped up in St. George, Utah.
📊

A Look at Local Housing Stats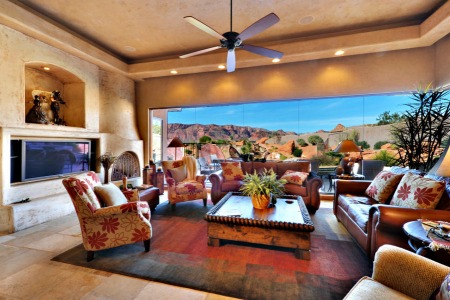 By August's end 2017, St. George recorded 277 pending sales in Utah, leaving 457 houses till listed for sale on the market. Among these homes, the average list price was $503,204. Active listings have been on the market for an average of 89 days.
Within the last six months, 1,276 contracts have closed on real estate transactions, with an average sold price of $310,090. Further analysis of the same six month time period reveals the average time span of 56 days on the market for a house from list to close. However, if you narrow that window down to a view of just the past 30 days, recent history shows average sold price was $306,557 with an average 47 days on the market.
📈

What Does This Data Mean
Several factors contribute to the ebb and flow of fair current market value, including inventory – the number of homes available for sale in contrast to the number of house hunters aiming to buy real estate. Taking a look back at that six month span, there's about a 2.1 month supply of available inventory of houses in St. George, Utah as of the end of August 2017. The measurement of inventory is a suggestion of how long it would take, start to finish, to sell every house on the market right now this second.  That number, however, does not fluctuate – meaning it does not take into account new homes being added to the MLS regularly.

🏠

What does this mean for sellers?
The inventory is a limited projection based on captured data that most certainly won't be the same tomorrow. What does matter, though, is that the fewer houses there are as opposed to the number of buyers, the more home values are influenced. Fewer houses and more buyers adds to the value of the property, deeming it a seller's market. Sellers know there will be fierce competition fueling substantial offers. A healthy market would show an average of a six-month supply of housing inventory.
💰

What does this mean for buyers?
Houses in St. George, on average, have listing prices around $350,000. Prices have risen recently and are expected to continue to rise through at least the next year. A portion of the homes sold were between $123,001 and $246,000 and were comprised of three and four-bedroom homes.
St. George, Utah is a thriving, lively, active community full of members who take pride in their surroundings and their lifestyle.
Wondering what your home might be worth? Find out instantly with our 15-second home value calculator.
Here's the most recent home listings just added to the database in the average price range for St. George. All homes here are priced at $503,204 or less.