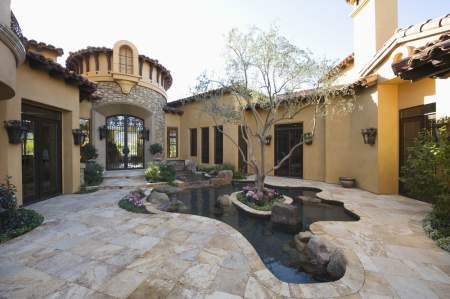 Situated along the Johnny Miller Signature Design 18-hole golf course, between the 16th and 18th fairways, is the affluent community of custom homes and custom lots known as Chaco Bench. The fifty-nine lots in the Chaco Bench neighborhood are enveloped within the highly-acclaimed Entrada at Snow Canyon golf course and country club resort community in St. George, Utah. When you're tailoring a life to your dreams and sparing no expense, consider a custom build in Chaco Bench in Entrada of Snow Canyon in St. George, Utah.
Natural beauty is the main draw to the area. St. George is a city steeped in ancient lava beds, sandstone cliffs, red mountains, desert foliage, and a collection of state and national parks and monuments. Entrada at Snow Canyon is a master-planned community whose focal point is the Johnny Miller Signature Design 18-hole golf course. Homeowners in Entrada have the advantage of awe-inspiring views not only of the mountains, desert landscape, and breath-taking sunsets but also of the enchanting emerald greens of the course.
The country club of Entrada features an array of amenities, many of which are included with the associate membership required of homeowners in Entrada. Enjoy the state-of-the-art fitness center, swimming pools, ballrooms, boardrooms, locker rooms, and a few dining options from which to choose. There's also an active social calendar of events and excursions for community members who like to get together to get out and about. Typical group outings may include trips to Zion national park, Bryce Canyon, or other local attractions.
When you purchase your lot, you'll work with an Entrada-approved custom home builder to bring your dream home to fruition within the neighborhood of Chaco Bench. Entrada enforces building restrictions to limit the amount of construction and disruption to the natural environment. Additionally, homeowners are required to use native foliage in their landscaping.
The Chaco Bench neighborhood is managed by Terra West Property Management and belongs to Entrada Property Owners Association. The association provides an array of services and helps to protect the integrity of the million-dollar homes within its boundaries, but not without charge. Monthly membership fees can be as low as $141 per month or up over $400 depending on your location within the community.
When you live in Chaco Bench within Entrada at Snow Canyon in St. George, Utah, you've positioned yourself in one of the best neighborhoods in one of the most coveted communities in one of the most affluent cities in the country. When you can tailor your life and custom build your home, when you're prepared to spare no expense for comfort, luxury, and views, then you might find yourself right at home in Chaco Bench. Enjoy a day out in St. George visiting galleries and museums or seeking the adrenaline rush of hiking or biking. Or, gather with your neighbors and friends for a social gathering to relax and enjoy good company. And, when all that is said and done, you can unwind in your custom home knowing you've created the lifestyle of your dreams.
Your real estate agent is the best source of information about the local community and real estate topics. Give the Jackie Ruden Realty Team a call today at 435-272-7710 to learn more about local areas, discuss selling a house, or tour available homes for sale.
Homes for Sale in Entrada Snow at Canyon Area