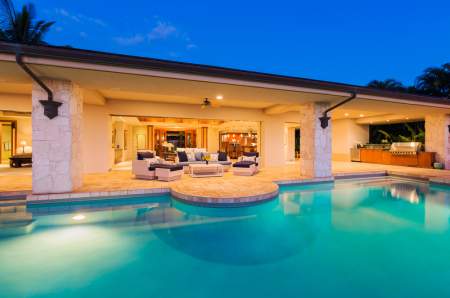 It's one thing to shop pre-built houses by feature. You can walk through the spaces with mind open to consider whether the ambiance fits your style, your aesthetic. You can make comments – privately and politely, of course – about paint colors, carpet condition, or the choice of fixtures in the master bathroom. But it's another thing altogether different to build a home from the ground up based solely, or at least partially, on your personal vision. Your home. And imagine that custom-tailored home situated in a dreamy atmosphere of lava rock, limestone, red cliffs, desert beauty, and all the natural wonders St. George, Utah is known for. Now, because there's no limit to daydreams, take that further and imagine that stunning home built specifically for you, situated in the beauty of Utah, nested within a secure gated community rich with amenities. Deeper still, envision that gated community crafted around an 18-hole signature award winning private golf course. If you can imagine this, you may be able to see yourself living the luxurious lifestyle offered at The Vistas in Estrada at Snow Canyon.
Entrada at Snow Canyon is a private, gated, secure affluent golf club community crafted around an award willing golf course with unbelievable views of some of mother nature's finest work in Utah's desert landscaping. The resort community offers a state-of-the-art fitness center, swimming pools, award winning clubhouse with ballroom, fine dining, and more. The community is comprised of more than just good spirit, but a bond of awareness that social gatherings, networking, visiting, and sharing special events are part of what make life beautiful at Entrada. Planned events include outings like hikes, bike rides, or other excursions out and about the area with neighbors.
Rather than pick out an existing home within the Estrada community, imagine having a home built on a lot that has some of the most amazing views you could imagine. You decide where the windows go. Homes in The Vistas subdivision of custom-built homes are priced starting at $1 million. This subdivision is bordered by The Escapes, and by Kachina Springs East, and is being rolled out in three phases of development. Your brand-new home will have floors, walls, light fixtures, cabinetry, architecture, countertops, and other fine features and finishes that come from designs woven directly from your daydreams of the perfect home.
You are unique and shouldn't have to tuck your personality into the confines of someone else's house. You deserve the opportunity to live a life you've imagined in a custom-built home. Your home can exist in one of the most prestigious golf club private, gated communities the area has to offer. Your private community can be tucked into some of the most awe-inspiring, jaw-dropping, stunning scenery of lava flows, red rock, and a blast of colorful natural artwork via the layout of the land such as unique rock formations, sandstone cliffs, and more.
It doesn't have to be perfect, but it can be perfectly yours… life at The Vistas at Estrada at Snow Canyon in St. George, Utah.
Your real estate agent is the best source of information about the local community and real estate topics. Give the Jackie Ruden Realty Team a call today at 435-272-7710 to learn more about local areas, discuss selling a house, or tour available homes for sale.
Homes for Sale in Entrada at Snow Canyon Area