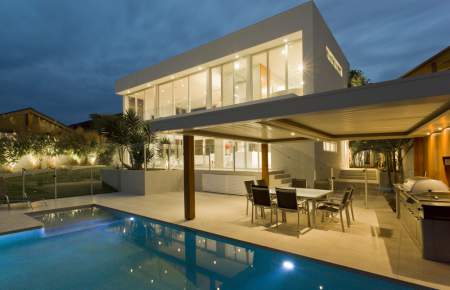 There are two significant things that create a powerful draw to Utah's St. George area: the first is Mother Nature, and the second is the golf club lifestyle. Among the finest of the luxury resort-style master-planned golf communities that spawned because of supply and demand is Entrada at Snow Canyon. Within Entrada are several unique and diversified communities, including Paiute Springs, one of the first developments to set the bar for the high standards to follow in the community.
Paiute Springs encompasses 59 lots, each imbued with water element features and landscaping involving a heavy presence of water. This juxtaposition of arid desert and hydrated lush designs creates a balanced appreciation for a life well lived.
When you live at Paiute Springs, you're buying more than a house with cool water elements and design features. And, you're getting more than the comfort and security of knowing your home is protected behind the gates of a guarded community. You also have the prestigious benefit of being able to take advantage of all the wonderful amenities embedded into the resort golf club lifestyle, such as the private gym with aerobics and fitness classes throughout the day, tennis courts, pickle ball courts, indoor and outdoor pools, basketball an volleyball courts, weight room, and more.
As a resident of Paiute Springs, you're also invited to participate in a plethora of social activities and planned get togethers including hikes, bike rides, knitting, book clubs, bridge, skiing, and more. There are also season, holiday, community, and special events designed to foster and nurture social relationships that contribute to quality affluent lifestyles.
Homes in Paiute Springs in Entrada at Snow Canyon in St. George, Utah have prices that hover starting at and above respectively around the $500,000 mark.
The views are also a part of the luxury accommodations at Paiute Springs. Some homes have views of the sandstone cliffs, the lava walls, the red rock, and the amazing kaleidoscope of colors and life forms that converge to create the relaxed and comfortable vibe of St. George. Other homes have views of the water elements and lakes that sparkle with golden sparkles of glittering sunlight. Other homes in Paiute Springs, however, have direct views of the signature golf course around which the entire community was constructed, and the focal point treasure of the Estrada community.
The Johnny Miller Signature Design 18-hole golf course is a part of a private equity country club, available exclusively to members, their guests, and guests of the Inn at Estrada.
There's not much to decide. You've chosen beautiful St. George, Utah for its stunning views. You've opted for Estrada at Snow Canyon as your private, gated golf-club community chock full of the finest amenities life has to offer – from fitness centers and classes to planned social events and ballrooms, from award-winning golf-courses to a community that's immaculately maintained. All that's left is to choose which unique subdivision beckons you. If you're a lover of the water elements and enjoy fluid designs, you may find yourself right at home at Paiute Springs.
Your real estate agent is the best source of information about the local community and real estate topics. Give the Jackie Ruden Realty Team a call today at 435-272-7710 to learn more about local areas, discuss selling a house, or tour available homes for sale.