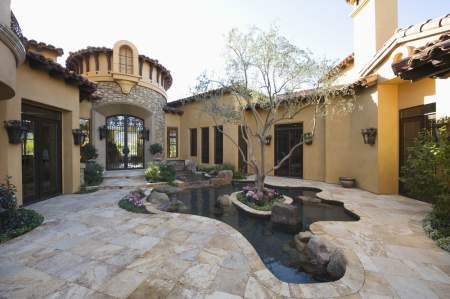 Entrada at Snow Canyon is a master-planned golf resort community in Washington County in St. George, Utah. The community's focal point is the Johnny Miller signature design 18-hole golf course set against some of the country's most spectacular natural landscaping comprised of sandstone, black lava, and red rock peppered with desert sage. In addition to the golf course, Entrada at Snow Canyon is recognized for its award-winning clubhouse and world-class amenities. Entrada at Snow Canyon is divided into multiple affluent neighborhoods. Kachina Springs is among an array of communities from which to choose, but with the purposeful design to connect homeowners with nature. When you're considering life at Entrada at Snow Canyon, consider living at Kachina Springs.
Kachina Springs is a secure, gated community situated along the fifth through eighth fairways of the golf course at Entrada. Although located amidst a desert landscape with burnt russet rocks and lava walls crafted by the hand of nature, the community boasts many man-made lakes and streams that flow in and around Kachina Springs. All the elements align for a comfortable lifestyle in an affluent neighborhood with like-minded neighbors who enjoy socializing as much as you do. The area is divided into Kachina Springs East, North, South, and Kachina Cliffs.
Terra West Property Management oversees the day-to-day affairs of Kachina Springs and Kachina Cliffs. The Entrada Property Owners Association takes care of common area electric, insurance, and landscaping, residential landscaping, and maintenance of the water features. Each home is endowed with waterfalls, lakes, fountains, and other water features. However, their services Entrada Property Owners Association provides come at a cost. HOA fees run between $141 per month to $439 per month depending on your location in the community.
Residents of Kachina Springs obtain associate membership to the Entrada Golf Club, a facility that hosts a plethora of recreational and entertainment activities. The club has a state-of-the-art fitness facility, multiple swimming pools, ballroom, restaurant, and more. Furthermore, because the designers understand the social foundation of the country club lifestyle, there are several hosted community events and social gatherings. Within the community, there are groups based on interests, so community members can form friendships with like-minded neighbors.
Kachina Springs is conveniently located to the rich offerings of St. George and surrounding areas. You're within a short drive from multiple state parks and attractions. Enjoy all the outdoor activities the area presents such as hiking, biking, boating, fishing, shopping, and more. Art, history, culture, and entertainment are all within reach.
But when the day is done, and you're finished with your social endeavors, you can let your hair down in the comforts of a home that was expertly designed and built with the finest materials. Melt away into the luxurious comfort of home sweet home.
By the way, if you love it when loved ones come to visit but don't love hosting house guests, the Inn at Entrada is an enticing option for guests right there in your own neighborhood.
Your real estate agent is the best source of information about the local community and real estate topics. Give the Jackie Ruden Realty Team a call today at 435-272-7710 to learn more about local areas, discuss selling a house, or tour available homes for sale.
Homes for Sale in Kachina Cliffs and Kachina Springs
Homes for Sale in Entrada at Snow Canyon Area